Description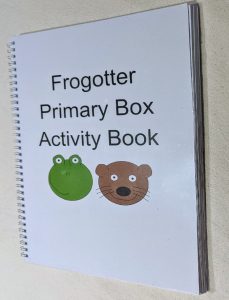 This is the book containing all the activities for the kit. There are 155 activities in all, though they all comprise several steps and may take more than one session to complete.
You can view a free sample, here:
FrogotterActivityBook_FirstExercisesSample
The activities are designed to be repeated. Most of them are games that will be slightly different each time you play. The activities are hands-on or conversation based. We believe that play and discussion are the best ways to learn. Using the Frogotter Box, you can cover the National Curriculum for Primary School (Key Stages 1 and 2) in a relaxed way, playing and talking together.
We know that many people need to keep records of learning, and even more people choose to do so for their own ease and satisfaction. So, the Activity Book ends with a set of purpose-made Record Sheets to make this super easy. If you would prefer not to write on the book, or are using it with more than one child, you can download as many Record Sheets as you need, here:
Many of the activities require extra parts (all found in the Frogotter Box) to be completed. But, there are a few that only require the book itself. You can see us playing one such game below: