Description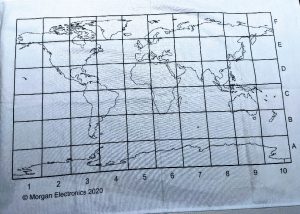 A World Map printed on a tea towel, with a grid over the top. The grid is numbered along the bottom of the map 1-10 and has letters running up the right-hand side from A-F.
Like our other tea towel products, the World Map is printed on 100% cotton, 77 cm by 51 cm.
The map is detailed, but not labelled. So you can use it to talk about the names of countries / continents / oceans and see if your child can find them.
In the Frogotter Box it is used to teach Geography – often in conjunction with the inflatable globe – with various games to help children learn the names of continents, countries and oceans, as well as directions and compass points. It could also be used alongside any other globe and / or atlas.
It is also used in Maths games to help with grid references, transformations and turns.
You can see us playing one of the games with the World Map below: