Description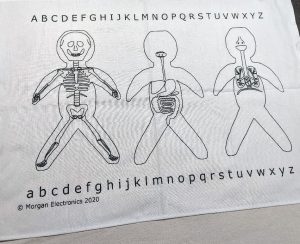 A tea towel printed with three simple body diagrams: a skeletal system, a digestive system and a respiratory system.
Like all our tea towels, it's printed on 100% cotton, 72cm by 51cm.
It's large enough to see organs in detail (the heart even has four visible chambers).
There are no labels, so you can use it to practise naming parts of the body, and you can introduce as much detail as your child is ready to hear.
It also has the alphabet printed across the top in uppercase and across the bottom in lowercase. In the Frogotter Box, it is also used for letter recognition games and as a reference for alphabetical order.
Used in the Frogotter Box to teach anatomy, this could also be used alongside books and /  or websites to help make learning more hands-on.
You can see the tea towel in action below.