I don't know about you, but we're very much ready for a break. We're looking forward to Half Term! But, how can you have fun during a Half Term in Lockdown? I've been busy making plans!
Half Term in Lockdown Time Table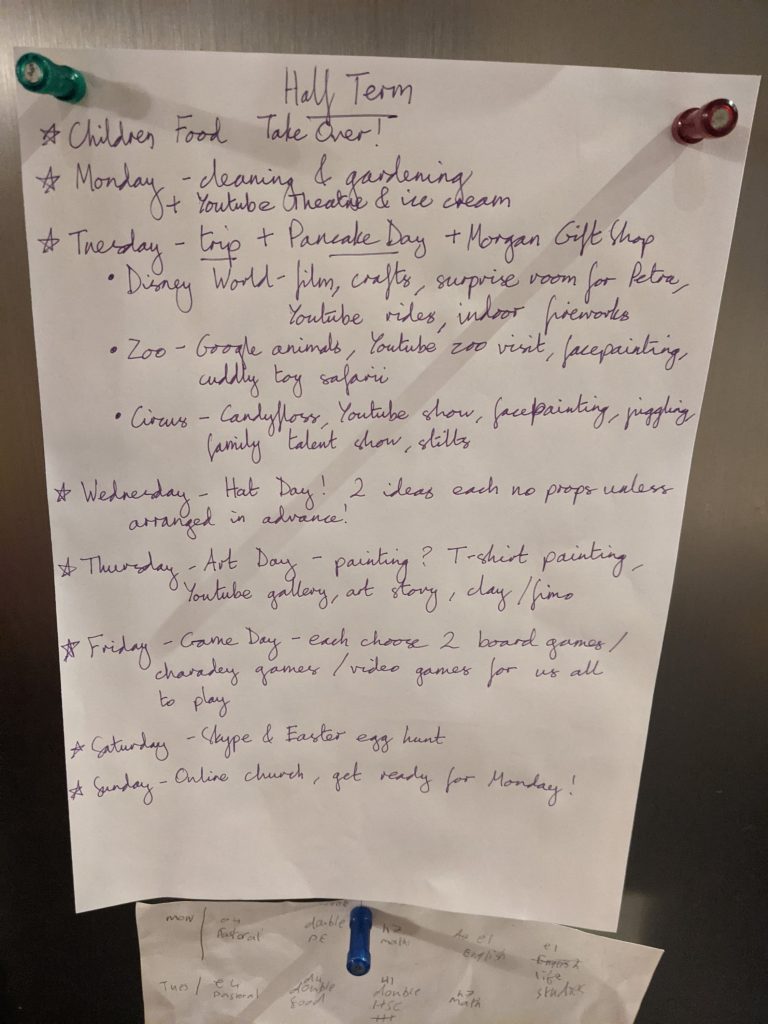 I like to plan, and my chlidren like to know what's going to happen. So we have prepared a basic time table for the week.
Gettting chores done on Monday will help us all to enter the holiday feeling ready to relax. I won't spend all the time worrying about everything that needs to be done. And we'll all feel like we deserve our fun!
Our big excitement will be on Tuesday – mainly because that's the day that works best around my husband and my work schedule. We can both be around on Tuesday.
Hat Days are a favourite in our family. Basically, everyone writes down two things that they want to do. We put all the ideas in a hat. Then we take it in turns to pick out an idea and do it. We continue until the hat is empty.
Art and Board Games are also popular here, so Thursday and Friday will be fun. We're going to paint T shirts, make clay models, and play whatever board games the children like. We've started having Easter Egg hunts every weekend to bring a bit of joy to Lockdown, so the children have come to expect them!
A Trip in Lockdown
Half Term usually means a trip or two, and Half Term in Lockdown deserves a Big Day Out of its own. We can't actually go anywhere, but we can certainly pretend!
I gave the children a selection of options to choose from:
They picked the zoo! So, we're going to have a big day in, pretending to go to the zoo! We're looking forward to a Youtube trip around various zoos – one big plus of virtual trips is that you can travel all over the world on the same day!
We're going to set up a cuddly toy safari, and I've ordered these big animal heads, from Fiesta Crafts, to add a surprise to some of the exhibits.
We'll finish up our virtual trip with a virtual gift shop. I'll create a special Amazon Wishlist full of little gifts and the children will each pick one. This will serve as a souvenir to remind them of all the fun we've had during our half term in lockdown. Souvenirs are a really fun way of helping children remember a fun time, we always use them, ever since I read Love Bombing by Oliver James.
Half Term Trips Untakken
The trips that I offered the children, which they didn't chose were:
The Circus: A youtube show, face painting, making stilts, family talent show, making cotton candy.
Disney World: A Disney movie, crafts, youtube rides, indoor fireworks.
Half Term Feeding Fun!
To add a bit of joy to the whole week, the children are taking over the kitchen! They'll plan the week's meals, order the groceries, and prepare the food. We've been doing this as a family for years, and the children are pretty capable now.
The first time we let the children take over, they chose the meals (and we had a bit of a debate about how many Pot Noodle meals were permitted!). We ordered the food together – online groceries make it really easy to keep to a budget! Then we helped the children prepare the food.
It's always a fun thing to do, and it has the added advantage of giving the days a bit of structure. My children thrive with structure.
The Rest of the Time
I don't structure every minute of the day. I am a firm believer in boring children. If you give them enough space and time, they will start to find out what they really like doing.
However, Half Term in Lockdown is also going to mean a break for me. So, I'm taking a break from monitoring screen time! I don't think that does any harm from time to time. They'll be cooking and playing for part of each day, but, then they can spend as much of the rest of the day staring at screens as they like. They'll hopefully have had their fill of screens for a while by the end of half term, and be ready to return to educational activities.